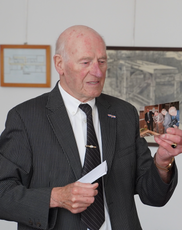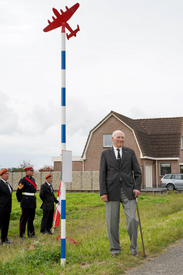 4th Remembrance post unveiled
On 4 december 1943 four of seven crewmen died during a crash of the LW343 bomber, the three who survived were captured by the Germans. On the 26th of september 2020 we stood still, to remember these soldiers.
The crew from the Halifax originated from Canada and the United Kingdom. Representatives of the embassies of both countries, as well as the deputy mayor of Hollands Kroon, were present during the official revealing ceremony of the remembrance post.
Many intrest was shown, compareable to the earlier unveiling in Kolhorown, during the unveiling by Cor Zwirs and Deputy mayor Mary van Gent. The ceremony was moreover accponied by the presence of WOII veterans. Multiple national anthems as well as Last Post were performed, which temporarily halted traffic on the Kerkweg.
Flowers and wreaths were placed in front of the rememberencepost. The importance of not forgetting the many young soldiers who perished when fighting for our freedom, was made clear during the speeches of the deputy mayor of Hollands-Kroon and sergant Jo-Anne Wiseman of the Canadian Embassy. Cor Zwirs shared his memories of these times in an inspiring manner. He shared many interesting stories during this ceremony and in the afternoon at Streekcentrum Oud Anna Paulowna.
Chris Dijkshoorn, member of the board of our foundation, took the charge of organizing this ceremony. He received many positive responses during this ceremony, which allows us to conclude that this ceremony was successful. Matthijs from NH Nieuws reported on this unveiling in this video.