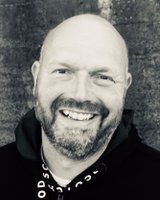 Mark Hakvoort
The chairman of this foundation is Mark Hakvoort from Slootdorp which is located in the former municipal Wieringermeer, nowadays known as Hollands Kroon.
He is interested in the crash locations of Wieringen, Wieringermeerpolder, Amstelmeer and parts of the Ijssel Lake and Wadden Sea.
In and the nearby Wieringermeerpolder at least 21 planes have crashed
from American, English, Polish, Czech, German and Dutch origin.
At Wieringen and in the Wadden Sea more than 4 aircrafts came down during the war.
He became interested in the air war because of the story his grandmother Hakvoort told him when he was a 7-year-old boy; the story of the bomber that crashed nearby the family farm at the Dolfijnweg in Slootdorp.