Remembrance post unveiled in Kolhorn
In 2020, 75 years after the liberation, the foundation had planned to unveil 8 remembrance posts. Due to the Coronavirus things turned out differently. But 5 September was the turning point; the first unveiling of 2020!
Chris Dijkshoorn organized the program of this day. In his introduction speech Chris told that parts of the crashed Lancaster fell on the house he currently lives with his family. From the seven crew members, three were from Australia.
The Australian ambassador, accompanied by his wife, visited Kolhorn especially for this occasion. In his speech he stressed out that the freedom nowadays we consider as normal was made possible by the heroic work of these young soldiers of which so many lost their lives in the battle.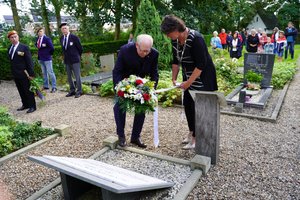 At the age of 15, Wilhelmina Struik, eye witnessed the crash of the Lancaster. She shared her memories and stories with Chris and together with the Australian ambassador, she unveiled the remembrance post. A beautiful ceremony where Dirk Bak played the national anthems of Australia, England and the Netherlands.
After the unveiling the group made their way to the cemetery where the crashed crew members of the Lancaster are buried. After the speech of Rian van Dam, mayor of Hollands Kroon, she laid a wreath at remembrance post in honour of these young soldiers. 'The Last Post' was played by Dirk Bak during this ceremony. The presence of 10 veterans completed the ceremonial actions at the remembrance post and the cemetery.
Especially for this day Museum OpZeeLand and museum the Turfschuur opened their doors for visitors, gave interesting information to the visitors who were enjoying a cup coffee, tea and Australian wine
The local press was present to report on this special occasion. NH news published a short summary. Click here for an extract.